Waste Management Solutions for Med Spas

Wondering what the best waste management solutions are for med spas? Med spas are located at the unique intersection of relaxing spa and healthcare setting. They are different from traditional healthcare settings, but since injectables are a part of this environment, it's essential that med spas follow best practices when it comes to the disposal of medical waste and sharps. 
---
TOPICS WE WILL COVER: 
1 / What types of cosmetic procedures create medical waste?
2 / What are some signs your med spa needs to improve its waste solution? 
3 / How can a med spa improve its waste management? 
4 / Team training is an essential part of med spa waste compliance
5 / Get specialised medical waste solutions designed for your med spa
6 / What makes Daniels containers different? 
---


What types of cosmetic procedures create medical waste?

As technology has improved in the last few decades, spa treatments have become more advanced. Non-surgical cosmetic procedures often use needles and injections to improve wrinkles, add volume and treat aesthetic concerns such as cellulite and broken capillaries.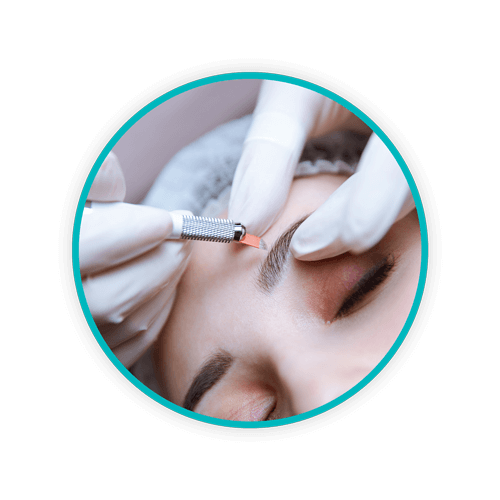 Some of the med spa treatments and therapies that use sharps include:
Semi-permanent make-up
Microblading
Micro needling
Dermal fillers
Botulinum toxin (Botox), Dysport and Juvederm injections
Acupuncture
Hair Replacement Treatments
Vitamin injections and IV Therapies
 
In Canada, the Canadian Association of Medical Spas and Aesthetic Surgeons provides guidelines for med spas on the training and equipment that should be accessible for the safety of clientele. 
---

What are some signs your med spa needs to improve its waste solution?

Client and employee safety are always high on the priority list of any quality med spa. But sometimes, due to a lack of proper training or equipment, med spas can encounter problems when it comes to medical waste. Wondering if your med spa may have a medical waste problem? Here are some signs that attention needs to be given to finding a better medical waste solution:
Sharps containers become overfilled often
Sharps and medical waste containers require added steps and are located in inconvenient areas
Containers are unsecured
There are logistical issues with contractors that provide the medical waste containers and those who provide the pickup and disposal of this waste. 
 
Even hospitals and healthcare environments can struggle with medical waste issues. By identifying the challenges, it can provide a route to finding the appropriate solution that's right for your med spa.  
---


How can a med spa improve its waste management?

You don't need to sacrifice style and your spa's welcoming environment while incorporating safe and effective medical waste solutions. This can be an easy step-by-step process that helps to make sure your waste management is providing you with all of the safety you need.
To begin, it's a good idea to perform regular waste audits. Different waste requires different containers and considerations. Medical waste includes: biohazardous sharps, pharmaceutical waste, and disposal for surgical devices. Daniels can help you with this process, which can sometimes feel a bit overwhelming. 
We understand that you want a clean, welcoming environment. Every med spa is different and has its own challenges. From space constraints to bin placement, there's many variables that need to be considered. We're experienced in helping med spas create the best environment. Your needs differ from those of traditional healthcare environments, so it's important to choose a solution that is designed with your specific needs in mind. 
---

Team Training is an Essential Part of Med Spa Waste Compliance

After you've completed a thorough audit of your facility, the next step is to put a plan in action. That involves providing enough of the right waste containers in easy-to-access locations. Then it's important to make sure your team understands what each medical waste container is for. You can provide instructions such as reviewing a procedure plan that includes the when, where and how of sharps disposal. Although there are probably only specific professionals in your spa who handle injectables and other treatments that involve sharps, it's a good idea to brief everyone on the staff in best practices, especially for disposal. All employees should understand the difference between general waste and medical waste so non-hazardous waste doesn't fill up the containers designated just for medical waste.  
---


Get Specialised Medical Waste Solutions Designed for Your Med Spa

At Daniels, we help med spas stay compliant and help them create the right medical waste solution that's specifically designed just for their business. With Daniels, you receive comprehensive medical waste care. That means we handle everything from the audit, to supplying the containers through to pick-up and disposal. That makes it easy for everyone, which is particularly important in the fast-paced med spa environment. 
We'll help you select the right containers that fit the needs of your team, whether that's mobile units that can move from room to room or touchless options that fit in cramped spaces. Your pick-up schedule is also designed to be cost-effective and paced to match your specific needs. It makes medical waste disposal a seamless part of your systems, whether you're a busy beauty clinic which demands frequent pick-ups or a med spa that only recently added injectables to your services menu. We make certain your medical waste solution involves only paying for what you need. 
You can feel good working with Daniels because we provide complete transparency along with a down-to-earth approach that emphasises user-friendly communications rather than medical jargon. We also prioritise sustainability by using a reusable container system, so there's less waste, which can fit in perfectly with your spa's values and philosophy. 
---

What Makes Daniels Containers Different

Looking for a way to improve the aesthetics of your medical waste containers? Here at Daniels, we believe that medical waste containers don't need to be ugly. In fact, we designed ours to look sleek, modern and seamless, so they fit right into any spa environment. But they aren't just about good looks. The Sharpsmart container for instance is the first reusable sharps waste containment system that will help protect your staff and others from needlestick injuries. It has even been recognized within the healthcare field for being one of the world's safest sharps containers. 
Our Sharpsmart containers employ an innovative design which actually allows each container to hold more sharps and prevent overfill. This ingenious design controls how sharps are placed in the containers, creating a uniform stack of sharps waste, instead of the bottleneck of sharps which occurs in typical containers. Ready to learn more about how Daniels can help your med spa stay compliant with a medical waste solution that fits seamlessly into your environment? Reach out to begin a conversation and experience a new worry-free approach to med spa medical waste.