Medical Waste Disposal in Ambulatory Care Facilities

Canadian ambulatory care facilities face unique challenges when it comes to medical waste disposal. These outpatient facilities often provide lifesaving medical care and surgeries to patients far afield from larger facilities with comprehensive waste disposal programs and dedicated personnel. 
Their smaller size and somtimes rural locations make it challenging to maintain safe and compliant medical waste management programs. Due to the wide nature of services ambulatory care facilities can provide, the precise mixture of waste they generate can vary significantly. Let's explore the types of waste challenges they may face, the regulations governing their disposal, and how ambulatory facilities can ensure compliance.
---
TOPICS WE WILL COVER:
1 / Canada's Medical Waste Disposal Regulations
2 / The Types of Containers Required
---


Canada's Medical Waste Disposal Regulations

Canada has few national-level regulations governing the disposal of medical waste. Instead, provinces and territories generally maintain these regulations. However, there are Canada-wide guidelines for the management of certain types of waste. For example, the Canadian Council of Ministers of the Environment has published Guidelines for the Management of Biomedical Waste in Canada.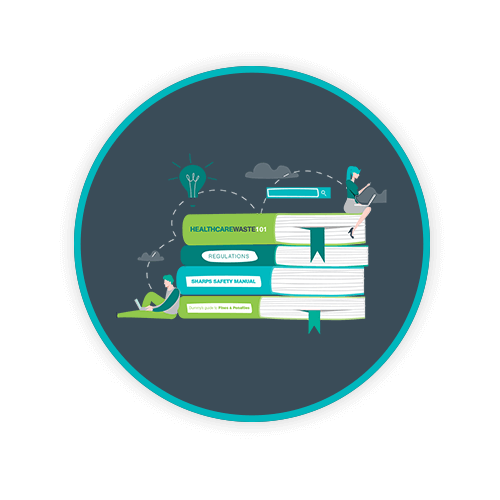 These regulations are not enforceable unless provincial or municipal governments, which may be more or less stringent, choose to abide by them, but they do provide a strong basis for any waste management program and are generally in line with accepted standards.
These regulations identify certain types of medical waste health care facilities may generate, including human blood and body fluid waste, waste sharps, microbiology laboratory waste, and human anatomical waste. Ambulatory care centres must identify and store these types of waste separately within suitable containers. In addition, though not defined as biomedical waste, these guidelines also identify cytotoxic wastes and pharmaceutical wastes, which like the former, must all be separated from regular waste streams.
Facilities must safely contain these wastes from generation to their final point of disposal. They should use colour-coded packaging according to the type of waste, and it must remain intact throughout handling, storage, transportation, and treatment.
Though many provinces, such as Ontario, permit biomedical waste generators to perform on-site management of certain types of waste for ambulatory care facilities, this generally will prove difficult due to their size and available resources. Instead, they will generally need to partner with an approved waste management provider, which is required for many wastes in Alberta, British Columbia, New Brunswick, and Nova Scotia.
---


The Types of Containers Required

A solid waste disposal strategy needs solid containers–not a mix of bags or boxes. Daniels Health believes ambulatory care centres deserve an upgrade from flimsy, risky bag-based systems. Combining multi-stream waste segregation with staff training customised to the applicable Canadian compliance standards will help a facility not only meet expectations but exceed them, promising greater safety and  efficiency.

Biomedical Waste Containers

Biomedical waste, as described above, generally comprises human anatomical waste, human blood and body fluids, sharps waste, microbiology laboratory waste, and any other waste contaminated with human blood or other potentially infectious substances. It is critical to check for any provincial and municipal regulations regarding this definition, as these may contain more expansive requirements.
Traditionally, many ambulatory care centres rely on bin and bag systems for their primary biomedical waste disposal needs. But while these systems may meet the minimum requirements for compliance, they do not excel at ensuring staff safety and correct usage. Daniels' Medismart containers are an intelligent choice for varied and complex waste needs. These containers remain sturdy, tamper-resistant, easy-to-use, and, in general, exceed compliance standards for Canadian provincial and national rules. Medismart bins help staff avoid spillage, leakage, and cross-contamination that can turn into high-risk incidents for any centre.

Sharps Waste Containers

Sharpsmart is a line of reusable sharps disposal containers that promise not only adherence to guidelines through their visible colour-coding and secure design but also a significant increase in safety. The containers have been able to reduce needlestick injuries in facilities adopting them by as much as 87%, a great boon to staff. They are made to be repeatedly sanitised by Daniels' modern processes to eliminate any contamination and be used again for greater cost savings.

Cytotoxic Waste Containers

Cytotoxic waste presents a unique challenge due to its extreme toxicity to human cells, making it extremely hazardous. Due to this, when chemotherapy treatments generate cytotoxic wastes, employees must immediately store this waste in an extremely secure manner. Daniels designs Chemosmart containers to safely collect and contain chemotherapy contaminated sharps and eliminate the system of plastic bags, liners, and secondary packaging for disposal. This not only reduces costs but also helps to reduce waste and environmental damage.

Pharmaceutical Waste Containers

Pharmaceuticals are the waste stream most at risk for abuse during the disposal process, and any ambulatory care centre should take caution to minimise risks to patients and staff from them. As well, compliance forms a concern since medications should not be left intact like other waste. Daniels creates Pharmasmart containers for easy wall mounting, which allows point-of-use disposal in medication rooms and other locations. The containers have a securely locking, tamper-proof design that prevents misuse of disposed pharmaceuticals. Minimised exposure for staff and patients equals minimise risk of abuse or non-compliance. 
---


Final Thoughts

Ambulatory care facilities face a number of unique challenges when it comes to handling medical waste disposal. From their small size to the distance they often face to convenient disposal locations, the difficulties often pile up, making compliance especially challenging. However, with the right knowledge, preparation, and disposal partner, these challenges are not insurmountable. By partnering with the experienced waste management team at Daniels Health, ambulatory care facilities can develop a compliant waste management program that guarantees the safety of staff, patients, and the environment in a cost-effective and practical manner. Reach out to learn how Daniels can help your outpatient facility tackle waste challenges with intelligence and innovation.