A Day in the Life: Medical Waste Disposal in Pharmacies

What does the average day in the life of a pharmacy look like in terms of the waste it generates? Trash ought to be out of sight and out of mind, but for medical waste, it takes a little work up front to keep a waste disposal system worry-free. Pharmacies must deal with sensitive categories of waste, from sharps to medications. Expired drugs, needles, pharmacy vials, and more items cannot simply be tossed in a random bin. Instead these require specialised disposal methods. Let's take a look at the ordinary medical waste a pharmacy generates and how it gets disposed of. 
---
TOPICS WE WILL COVER:
1 / Pharmaceutical Waste is Naturally a Major Concern for Pharmacies
2 / How to Dispose of Pharmaceutical Waste Properly Within the Pharmacy Setting
3 / Other Types of Waste Generated by Pharmacies 
---


Pharmaceutical Waste is Naturally a Major Concern for Pharmacies

Obviously, the biggest source of waste a pharmacy must monitor and carefully dispose of is pharmaceutical waste. Most often, this will include medications that have expired or have become recalled (some medications must be denatured before disposal, but many do not). Pharmacy techs will always be removing expired products from the stock and trashing them. However, unused and partially used medications are also a common sight in pharmaceutical waste bins, especially if the pharmacy provides drug take-back services to the community. 
Customers with prescriptions may frequently revisit the pharmacy seeking assistance in getting rid of their unneeded drugs. Beside medications, pharmaceutical waste also includes hardware such as inhalers and materials generated by pharmacy work, such as used and broken pharmaceutical vials and ampoules. With all of these items, a pharmacy's bins can fill up fast! 
---


How to Dispose of Pharmaceutical Waste Properly Within the Pharmacy Setting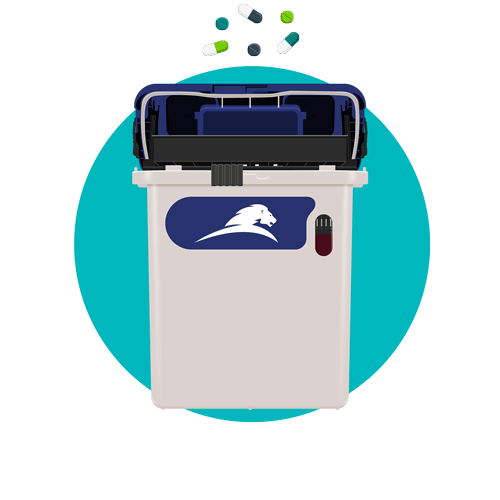 All of these materials must be disposed of, ideally following guidelines set out by the Canadian Council of Ministers of the Environment. A good pharmaceutical waste disposal system begins with sorting waste in clearly-labelled, tamper-proof bins and ends with pickup by a trusted partner. 
Pharmasmart by Daniels Health is one such solution that offers containers in a wide variety of sizes that exceed penetration standards, help ensure compliance, and make disposal easy. Moreover, these containers are reusable, allowing for cost savings and a better carbon footprint for the facility. Daniels Health can even arrange for pickup through a network of partners to complete disposal at a Daniels processing facility. 
 
A Pharmaceutical Waste Solution for Small Pharmacies
 
Many small pharmacies may not create enough pharmaceutical waste to necessitate investment in a larger system. In these cases, a single-use pail designed to contain pharmaceutical waste may meet the needs of the facility while minimising expense. A single-use Rx pail may be the perfect solution for pharmacies that create smaller quantities of waste but still want to follow effective disposal practices.
 
A Safe and Easy Method for Denaturing Dangerous Drugs

Not all medications can be tackled with this solution. A great many drugs, like Fentanyl, Barbituric Acid, or Amphetamine, need to be denatured before disposal to prevent drug abuse. This requires a disposal method that chemically deactivates the medication and prevents consumption by unauthorised users. This ensures compliance with federal guidelines, as well as likely any local, provincial, or national standards applicable. Preventing drug misuse and abuse by denaturing medications not only helps promote compliance but also ensures better safety for staff and customers.
Most pharmacies would be best served by a charcoal-based drug denaturing solution. Secure a Drug is a product that is quickly activated with water. All a pharmacy employee needs to do is insert the medications and close the securely locking cap afterward. Secure a Drug can accommodate hundreds of pills before being ready for permanent disposal. 
This design is created with tamper-resistant features to ensure compliance with common security guidelines and to promote staff and consumer safety from misuse and abuse. The fast disposal process means staff can get back to their duties, while Secure a Drug works to render the medications inert and ready for further disposal. Utilising Secure a Drug simplifies the process of denaturing drugs to make it an effortless addition to workflows. 
---


Other Types of Waste Generated by Pharmacies

But pharmaceutical waste isn't the only kind of waste pharmacies need to deal with on a daily basis. Pharmacies must keep a variety of sharps on hand for everything from vaccinations to injected medications. Again, customers will often return to their pharmacy for assistance when disposing of used needles for their medications. Beyond needles, scalpel blades, pipettes, and broken glass items also demand cautious disposal. Sharps are estimated to result in 69,000 injuries nationwide across Canada, but a proper waste disposal system can significantly reduce that number. Pharmacy techs need a way to get rid of sharps immediately after use to prevent risk to staff and customers.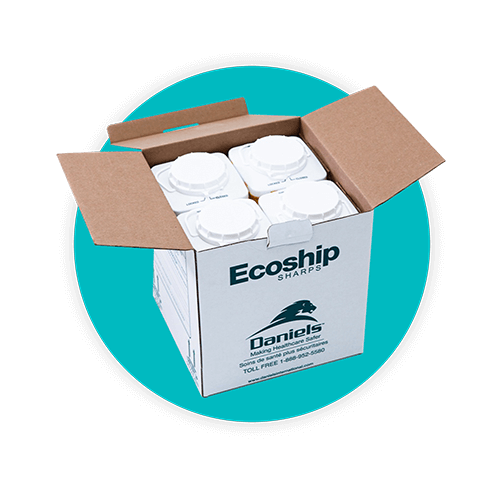 Again, the solution for sharps waste begins with clearly labelled containers that are compliant and tamper-resistant. A sharps system like Daniels Sharpsmart can handle large amounts of sharps waste while also being reusable for greater environmental stewardship. A reliable sharps containment system can reduce needlestick injuries by up to 87%. 
Yet, many pharmacies will likely generate lower volumes of waste more suited for smaller containers. Ecoship by Daniels Health is a line of single-use containers made in different sizes, perfect for smaller facilities. The bins are immediately identifiable, designed to exceed penetration requirements, cost-efficient relative to their size, and even despite the single-use nature, created with environmental concerns in mind. All pharmacy employees need to do is drop the sharps waste in and close the lid. When the ecoship bin is full, it can be sealed and picked up for safe and compliant processing and disposal. This means it acts as a seamless solution that can be fit easily into a pharmacy's daily routines as needed.
Pharmacies may be smaller than many other healthcare facilities, but they have many of the same day-to-day medical waste needs. From medications to sharps, pharmacy employees are responsible for managing multiple streams of waste in a cost-efficient and legally compliant manner. Relying on environmentally friendly waste disposal systems that also come in sizes and styles appropriate for smaller facilities is key. From solutions like Secure a Drug for sensitive medication disposal needs to appropriate single-use waste pails for pharmaceutical waste to ecoship containers from Daniels Health for the elimination of sharps, pharmacies must be ready to implement multiple waste disposal solutions to best manage their trash stream. Responsible waste management on a daily basis promises to keep a pharmacy running efficiently and compliantly.