A Guide to Achieving a Compliant Biomedical Waste Program at Your Dental Facility

Canadian dental practices are focused on providing patients with perfect smiles, so biomedical waste probably is not at the forefront of most dentists' concerns. However, with every dental procedure performed, biomedical waste is generated, and often lots of it.
From PPE to dental amalgam, your facility most likely produces a wide range of medical waste streams that must be properly managed to ensure the safety of staff, patients, and the environment, as well as to ensure compliance with government regulations. Here we will be taking a close look at what Canadian dental practices need to know about biomedical waste disposal. Then, we will discuss how you can efficiently establish a compliant and safe disposal program at your facility.
---
TOPICS WE WILL COVER: 
1 / Common Compliance Challenges Canadian Dental Practices Face
2 / Purchase Suitable Containers for BIomedical Waste
3 / In Canada Dental Practices Have a Comprehensive Waste Collection and Disposal Solution 
---


Common Compliance Challenges Canadian Dental Practices Face

Dental facilities face certain unique challenges in regard to medical waste, including, perhaps most notably, dental amalgam. This substance is regulated on both a federal and provincial level. In addition, these facilities must work with x-ray films which often include silver or lead development materials that must be disposed of specially.

Amalgam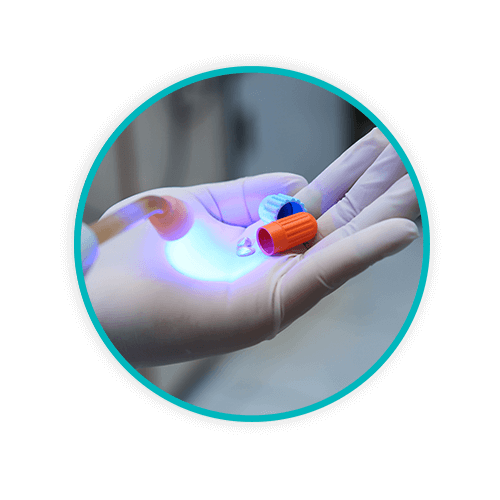 Amalgam has a long history as one of the most valuable materials in dental practices due to its considerable use for dental procedures. However, the high concentration of mercury has resulted in considerable attention by regulators. Most notably, this includes the Canadian Environmental Protection Act, which became law in 1999 and classifies mercury and any waste containing mercury as a toxic substance. 
Since this time, Environment Canada has required that dental offices adopt a pollution prevention plan that includes preventing mercury release from dental amalgam. In order to prevent the discharge of mercury into wastewater, dental practices must use an amalgam separator device and partner with a waste management provider to properly dispose of mercury-contaminated waste.

X-Ray Materials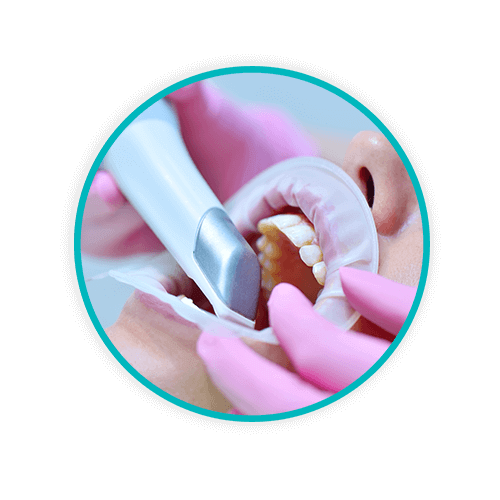 Dental practices generally use fixers to develop X-rays that contain high concentrations of silver, which in many provinces qualifies as a hazardous material. For example, Nova Scotia limits the maximum concentration of silver to 2 mg/L. But x-ray fixers commonly contain concentrations of up to 4,000 mg/L of silver. In addition, the undeveloped film contains high concentrations of silver, which in most cases will qualify as hazardous waste. It is crucial to check provincial regulations and partner with a trusted waste management provider to determine particular thresholds and classifications for these waste products. 
---


Purchase Suitable Containers for Biomedical Waste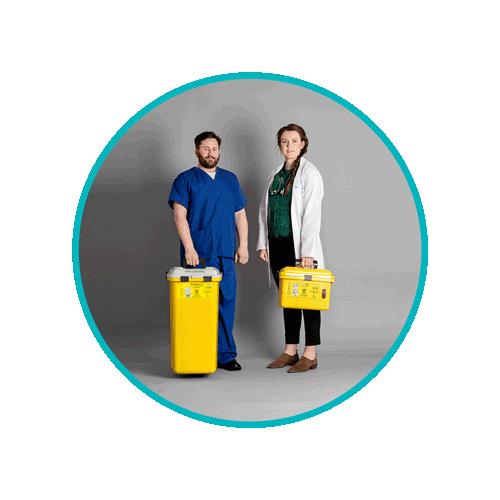 Dental practices produce a fair amount of biomedical waste in their daily routines, from contaminated gloves and protective equipment to bloodied gauze to some fillings and teeth. Standard guidelines dictate that this waste must be disposed of in secure, clearly marked containers. This prevents risk to staff and patients in the form of unnecessary exposure to pathogens. 
Medismart containers are designed to promote effective waste segregation. The containers can be easily mounted or installed near the site of waste generation to promise speedy workflow and minimise the risk and time associated with waste disposal. The reusability of the containers offers long-term cost efficiency while improving sustainability. However, if you are a small dental practice, your disposal needs are different. For these types of practices, Daniels' single-use biomedical waste pails are a more suitable solution for waste streams. Any of these containers are made to comply with and, where applicable, exceed standards for safety and compliance.

Purchase Suitable Containers for Sharps

One of the biggest categories of biomedical waste is also the most dangerous – sharps. Needlestick injuries and infections pose a serious risk to staff and significantly impact workflows when they occur. Safety is, therefore, a major concern when selecting an ideal waste disposal method for sharps, as well as minimising risk by decreasing the time spent on handling and disposal.
One solution which addresses all of these concerns is Daniels' Sharpsmart. This is a system of reusable sharps containers that have been shown to decrease needlestick injuries by a significant percentage. The containers are designed to integrate seamlessly into facilities, meaning a compliant option for disposal is always at hand.
Just as with biomedical waste, many smaller dental practices need a solution that is scaled to their waste stream. Ecoship is an excellent option for disposing of smaller quantities of sharps in a way that marries price, sustainability, and efficiency. Simply insert all unwanted sharps into the Ecoship container until it is full. Then, seal it up and mail it back to Daniels for effortless and compliant disposal.

Purchase Suitable Containers for Pharma Waste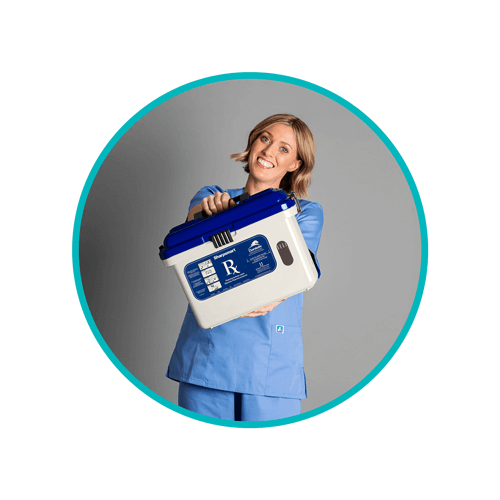 One of the larger compliance concerns dental practices face is eliminating pharmaceuticals. From antibiotics to pain medications, both large and small dental offices may encounter a variety of pharmaceuticals. Medications that have expired or been returned by a patient demand fast and compliant disposal to avoid risk or abuse. Controlled substances cannot simply be flushed or thrown away in the general waste stream. Thus, this kind of waste calls for specialty disposal solutions. 
For larger practices, Pharmasmart is a system designed to prevent any potential abuse with secure locking features and carefully-managed disposal protocols. The containers offer the potential for immediate cost reduction through their reusability and minimization of incorrectly disposed items. They have built-in seals to prevent leaks and possible exposure and point-of-use disposal for reducing time and labour wasted on cumbersome waste elimination methods. Smaller practices can make use of our disposable Pharmaceutical Waste Pail, which are also compliant with all applicable laws. 
For controlled substances, turn to Secure a Drug. This innovative formula renders most medications inert and ready for compliant disposal. Simply drop pharmaceuticals free of any packaging into the activated carbon in the solution. This method will meet non-retrievability standards while also preventing any risk of misuse from patients or staff. Dispose of the Secure a Drug container when full in the appropriate pharmaceutical bin. 

Create an Intelligent Waste Strategy

If a waste management plan isn't clear, thoughtful, and easy, staff may struggle to follow it. Good planning shouldn't stop at simply ordering waste bins. It should extend to considering the dental practice's exact needs and anticipating them. Containers should be located ideally to reduce the time and effort spent on disposal. Bins should be clearly colour-coded and visibly distinguished to guarantee proper waste segregation, reducing high disposal costs. Staff should be made aware of waste disposal methods and the compliance risks they are dealing with. 

Establish Staff Training & Optimisation

Getting all staff members on board with the waste disposal strategy is key to guaranteeing compliance. Educating the team on key standards and guidelines for waste disposal should never be overlooked. Daniels also offers resources on the myriad of potentially relevant municipal, provincial, and national regulations for a given dental practice. . 
---


In Canada Dental Practices Have a Comprehensive Waste Collection and Disposal Solution

Medical waste disposal is a challenging prospect for many Canadian dental facilities. However, with the right waste partner, it can be a surprisingly simple, economical and seamless process. A waste solution partner like Daniels provides the guidance and disposal solutions that Canadian dental practices need to achieve compliance with national, provincial, and municipal regulations while providing cost-effective and safe containment that will optimise clinical environments for both patients and staff. Reach out to Daniels to learn more about the services and products designed specifically for Canadian dental practices, both large and small.