How Reusable Containers Can Reduce Infection Risks

One of the most important things that any facility can do, especially in healthcare scenarios, is to reduce infection risks for employees and the general public. Those risks are ever present, and never more so when it comes to medical waste. Daniels Health is dedicated to providing products and services to keep healthcare professionals, the public, and the environment safe. How do our containers reduce infection risks?
Safety and infection control are a priority, and our containers can help reduce the risk of infection transmission as well as sharps injuries – a primary cause of healthcare-related bloodborne pathogen infections.
Healthcare facilities around the globe struggle with hospital acquired infections (HAI), so when taking steps to reduce risk for patients and providers alike, it's important to follow federal, regional, and municipal regulations for the safer handling, containment, and disposal of waste streams produced in a healthcare environment.
---
TOPICS WE WILL COVER:
4 / Prevention of sharps injuries
---


Primary causes of HAIs

Hospital acquired infections are typically caused by bacterial, viral, or fungal pathogens, and one of the most common causes is a bloodstream infection. According to the Public Health Agency of Canada and the Centre for Communicable Diseases and Infection Control, HAIs are carefully monitored and surveilled.
Such infections include but are not limited to Methicillin-resistant Staphylococcus aureus (MRSA), Clostridium difficile (C. difficile), Norovirus, urinary tract infections (UTIs), and severe acute respiratory syndrome (SARS), primarily due to their stubborn adaptability to survive on just about any surface, from a call button to a bed rail to dust and telephones. More information on HAIs can be found here.
For this reason, it is essential that staff be trained in proper infection control protocols, as well as taking added steps to reduce infection risks through proper placement, use, and storage of medical waste and sharps containers.
Reducing HAIs are not just the responsibility of the housekeeping or janitorial staff. It is the responsibility of every healthcare employee in the facility. In addition, proper selection, placement, and use of healthcare waste containers can also facilitate cleaner, more sterile environments that reduce HAI factors. 
---

Container designs

One major step toward reducing infection risk of hospital acquired infections is not only found in waste or sharps containers, but where they are placed, how they are used, and how they are moved around the healthcare environment and ultimately stored prior to transportation off-site for disposal.
Our Sharpsmart and Medismart containers are designed to support protocols and principles associated with HAI reduction. The construction of our containers and bins are designed to facilitate easy use and placement in a variety of scenarios, from surgical suites to examination rooms, to lab facilities, and patient rooms.
Our Medismart containers utilize a foot pedal opening mechanism and a bagless system that reduces hand contact. Such a no-touch alternative reduces the risk of infection transfer in a variety of healthcare scenarios over a standard waste container. Once the reusable containers are full, it is professionally removed from your facility, emptied, and then washed and decontaminated off-site in our robotic Washsmart system.
This wash and contamination system exceeds the decontamination requirements of the Centers for Disease Control and Prevention (CDC). Our use of chemical, thermal, and physical methods in washing and decontamination processes can remove pathogens that include C. difficile spores, Staphylococcus aureus (S. aureus), and other mycobacteria. Our 6-log process removes 99.9999% bacterial load that exceeds densities commonly found in patient rooms. 
---


Reducing infection risks

Reducing infection risks, especially hospital acquired infections, are vital in optimal patient care scenarios. Bloodborne pathogens such as hepatitis B are a common infection risk relating to needlestick injuries. Use of our disposable or reusable sharps containers can also reduce risk due to their design.
A recent study of sharps container surfaces situated in rooms of C. difficile patients show no difference in the number of spores found on their surfaces, and that our Washsmart robotic washing system removes all spores from sharps containers, even those contaminated with heavy suspensions of the pathogen.
It should also be noted that bloodborne pathogens are not transmitted from clean environmental surfaces such as a container, a bin, or aerosols. Bloodborne pathogens in healthcare environments are most commonly caused by needlestick or sharps injuries – meaning those that can stick, poke, scratch, or cut skin and become infected by contaminated blood or bodily fluids.
Microscopic components such as prions, which are pieces of proteins, can be found on items that go through normal autoclaving processes. Even so, the CDC emphasizes that such transmission of prions doesn't occur from typical environmental surfaces. Even in the unlikely event that such prions are found in a sharps container or bin provides no risk to health care staff, patients, or transporters of such waste.
---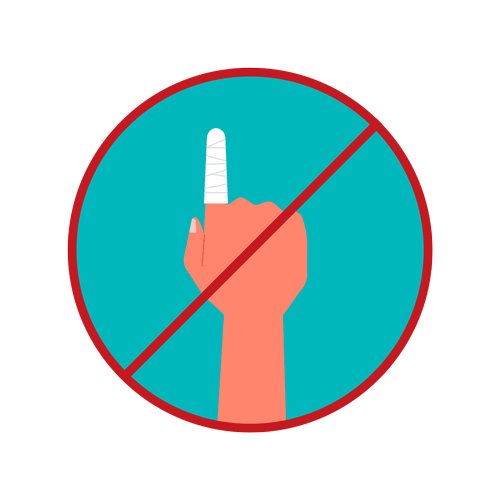 Prevention of sharps injuries

Reducing infection transmission requires diligence, proper training, and compliant placement and disposal of all medical waste streams. Our Sharpsmart containers meet PG2 certification standards of the United Nations for the transport of Dangerous Goods in regard to packaging requirements.
Most needlestick injuries occur during preparation, use, or disposal of needles. Accidental sticks as a result of recapping amount to roughly 25% of such injuries. Another 30% are estimated to be caused by inattentive, careless, or improper disposal of needles when using sharps containers, especially when inserting needles into overfilled containers. Improper disposal of such containers, rather than sealing the container for disposal, also causes potential hazards for waste transporters as well as to other departments in a healthcare facility including laundry and housekeeping services. 
---


Reduce risk of HAI infections

Every medical care environment is responsible for properly training all employees in reduction of infection risks within the healthcare environment. Daniels Health Canada is doing its part to design, manufacture, and provide compliant and safe sharps containers and other healthcare waste containers for pharmaceutical, biohazardous, and hazardous needs of hospitals and other care centers.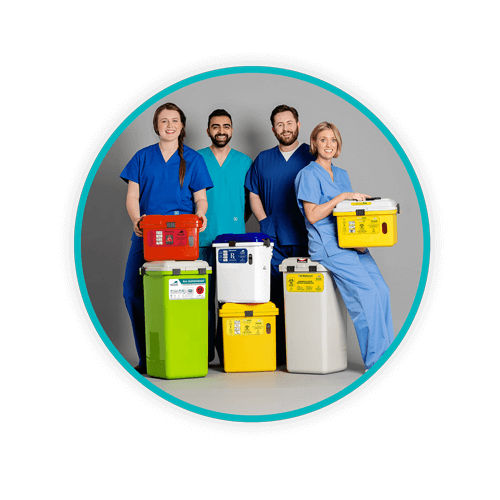 For more information on reducing infection risks in your facility, contact a knowledgeable representative of Daniels Health Canada today. With over 30 years of experience in the field, we focus on safety of healthcare providers, patients, the general public, and the environment.