Biomedical Waste Management Tips and Guidelines for Langley, British Columbia

Langley, located just east of Boundary Bay, is a district municipality of Metro Vancouver that exudes a comfortable and slower paced environment than larger cities. Even so, the relatively small town of 25,000 inhabitants expect and depend on excellent medical care from local hospitals, outpatient centres, care homes, and dental and veterinary providers.
While the Langley Memorial Hospital provides primary, secondary, and some specialty care services, the facility, as others within the province of British Columbia, must follow the healthcare waste guidelines of not only the Canadian government, but the province.
Knowledge and understanding of medical waste management guidelines are essential for healthcare providers in Langley and throughout the province. Compliance is vital, not only to reduce the risk of fines and penalties, but in ensuring the safety of healthcare providers, patients, and the local environment.
---
TOPICS WE WILL COVER
6 / Daniels Health Canada knows the rules 
---


What is biomedical waste?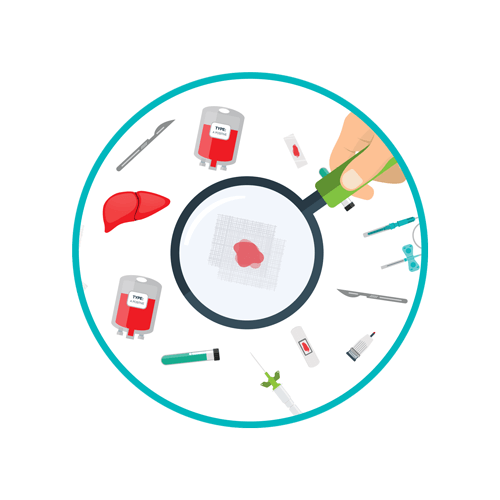 Biomedical waste is defined by the Canadian government as wastes contaminated with blood or body fluids. Any medical waste generator in British Columbia should be able to identify and differentiate biomedical waste from other forms of waste such as pharmaceutical waste, hazardous waste, sharps waste, and so forth. However, it's also important to be aware that biomedical waste might also be hazardous in nature, meaning it should be treated as hazardous waste.
Biomedical waste management traditionally follows the guidelines found in chapters 16 through 20 of the Canadian Biosafety Handbook, although it should also be noted that every province and territory throughout the country also provides their own guidelines for the management of biomedical waste. Provincial or territorial guidelines are often more stringent than those of the Canadian government.
Another valuable resource is the Environmental Management Act (EMA). For all aspects of biomedical and healthcare waste streams and their management, refer to Chapter 53 of the act.
The document contains important information and guidelines for hazardous waste storage and disposal, packaging, product containers and disposal products, and other aspects of municipal waste management, including waste management plans. 
---


Regarding hazardous waste

The province's Environmental Management Act also covers the topic of hazardous waste. At its most basic definition, the Environmental Management Act "prohibits the introduction of waste into the environment in a way that will cause pollution, except in accordance with the regulation, permit, approval or code of practice issued under the Act."[1]
Hazardous waste is to be managed under the guidelines of EMA rules and standards as well as the province's hazardous waste regulations. 
---


Segregation is important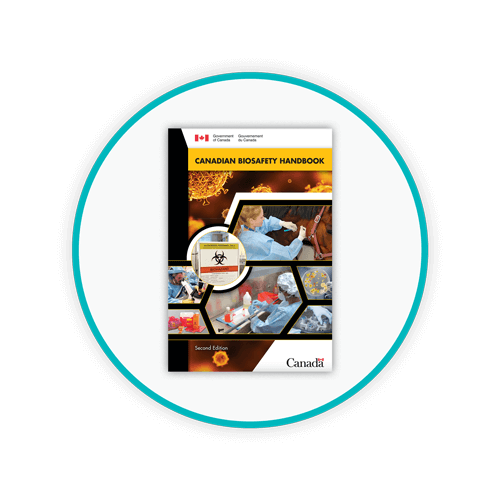 It is vital that biomedical waste be separated from general waste streams before disposal because biomedical waste necessitates specific decontamination processes. While each province or territory in the country has their own rules for segregation, the federal government has set minimum standards in regard to biomedical waste management. The Canadian Biosafety Handbook provides guidelines for various aspects of biomedical waste management that includes:
Proper, safe, and compliant movement and transportation of biomedical waste
Safety programs
Decontamination procedures
Routine or standard operating procedures
 
The province of British Columbia requires that generators producing biomedical waste have permits and approvals from local municipalities in place before disposal of any hazardous, infectious, or biomedical waste.
Biomedical waste is not to be handled or treated as "solid waste" per the Ministry of Environment. An excellent resource for dealing with biomedical waste can be found in the aforementioned Canadian Biosafety Handbook, which covers topics that include but are not limited to:
Biosafety standards
Biological materials
Decontamination (including autoclave, incineration, irradiation and effluent or gaseous decontamination systems)
Waste management (see Chapter 16, sections 16.1 through 16.1.5)
 
Segregate biomedical waste as close to the point of origin or generation as possible.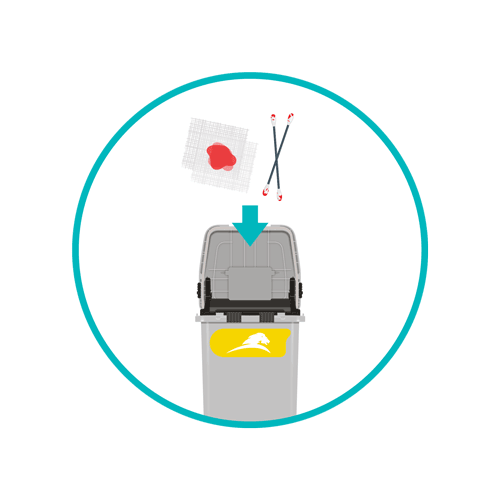 ---

Human waste – including blood and body fluids – is to be placed into a leak-proof, puncture-proof, and appropriately colour-coded waste bag or compliant container. Such waste is then to be stored in a refrigerator, a cold room, or a freezer as it (temporarily) awaits decontamination. Such waste is to be clearly marked as biohazard waste.
Chapter 20 of the Canadian Biosafety Handbook covers topics regarding the movement and transportation of such waste. Any waste that is even suspected of being contaminated with a pathogen or a toxin is considered a dangerous good and must abide by the guidelines of the Transportation of Dangerous Goods Regulations. 
---


About Sharps waste

Sharps and associated sharp objects that may have been contaminated with any infectious material is to be decontaminated before disposal. Sharps waste is to be placed in compliant, leak-proof, puncture-proof, and tear- and crush-resistant containers marked with the universal biohazard symbol. Once it has been decontaminated, such waste is no longer considered infectious.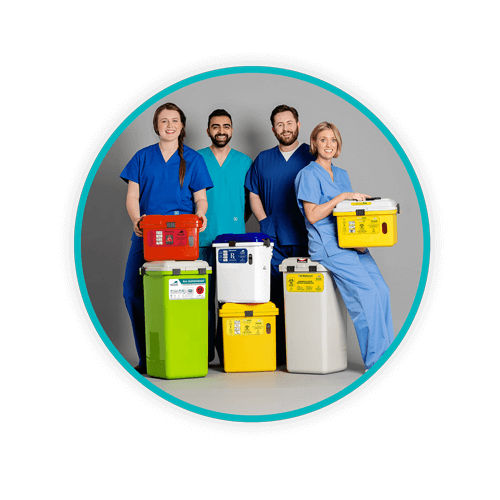 ---


Daniels Health Canada knows the rules

Daniels Health Canada is dedicated to protecting healthcare workers from potentially dangerous contamination from biomedical waste. We provide regulatory guidance and waste processes and products to ensure compliance throughout Canada and within each province or territory when it comes to biomedical waste management. For more information on our products, services, or educational resources, contact one of our representatives today.