How is Biomedical Waste Disposed of in Canada?

Canada spans nearly ten million square kilometres and is made up of ten provinces and three territories. Each provide medical services to inhabitants, ranging from large urban hospitals to small provincial clinics. Each produces some type of medical waste, much of it biomedical in nature.
Compliant and safe procedures for collection, segregation, and ultimate disposal processes for biomedical waste must be followed to ensure the safety of not only healthcare workers and patients, but the general public and the environment.
Throughout Canada, federal regulations require specific waste management processes regarding biosafety, and provide guidelines when it comes to the management of biomedical waste. However, it should be noted that those laws are not enforceable unless they have been adopted by provincial legislation or municipal bylaws. In many cases, localities and municipal bylaws are more detailed and stringent than the guidelines of the Canadian Council of Ministers of the Environment (CCME).
As such, it's important for every healthcare provider and facility to be able to recognize definitions of biomedical waste based on provincial and territorial laws.
 
---

TOPICS WE WILL COVER:
2 / Managing Biomedical Waste in Canada
3 / Compliance is Essential for Safety

---


Defining Biomedical Waste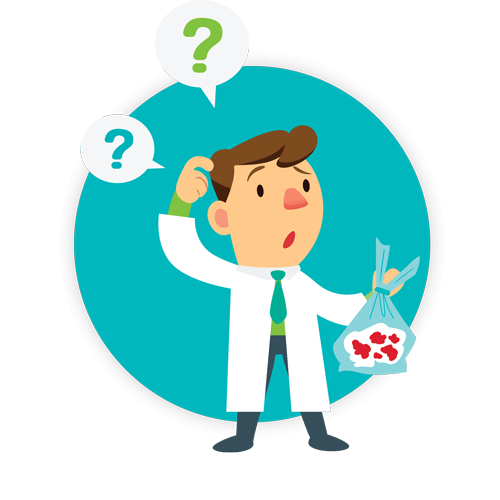 Defining biomedical waste often involves different terminology and descriptions, depending on province or territory. For example, in Nova Scotia, biomedical waste management is overseen by Nova Scotia's Health Authority. Compliance and enforcement under Nova Scotia's Environment Act must be followed, and biomedical waste treatment facilities must be registered. Biomedical waste that is generated in Nova Scotia is regulated by the Environment and Labour Department.
In Alberta Province, biomedical waste means a waste that is generated by human healthcare facilities, medical research and teaching establishments, clinical testing or research laboratories, and facilities involved in the production or testing of vaccines… "and contains or may contain pathogenic agents that may cause disease in humans exposed to the waste."
In Ontario province, biomedical waste means:
Human or animal anatomical waste
Human or animal blood waste
Microbiology laboratory waste
Sharps waste
Cytotoxic waste
Waste the comes into contact with human blood waste that is suspected of or is infected with an infectious human substance or a waste that contains or has derived from one or more wastes described above
 
In the province of Québec, biomedical waste can include the following types:
Human anatomical waste that consists of body parts or organs, but doesn't include teeth, hair, nails, blood and biological liquids;
Animal anatomical waste excluding teeth, hair, claws, feathers, blood and biological liquids
 
Biomedical waste can be non-anatomical in nature and include sharps or other breakable or sharp objects that have come into contact with biological liquids, tissues, or blood that are used in dental, veterinary, or medical facilities or laboratories.  Live vaccines are also a type of biomedical waste in Québec Province.
Biomedical and other types of waste management practices will vary across Canada, and the information for specific definitions and practices can be difficult to locate depending on province, territory, and even municipality. As such, biomedical waste management processes will also slightly differ, but all must - at the minimum - adhere to the Canadian government's regulations covering biomedical waste found in the Guidelines for the Management of Biomedical Waste in Canada. Storage and disposal guidelines are found in that document under Section 16.2.
However, it should also be noted that every province stipulates their own guidelines for the management of biomedical waste, much like their definitions.

---


Managing Biomedical Waste in Canada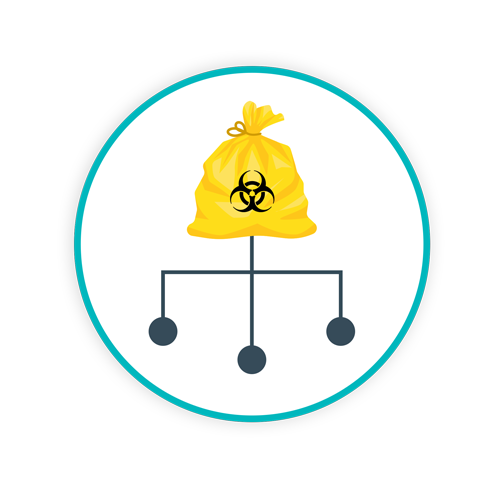 As noted, every province and territory in Canada must follow the regulations of the federal government. However, each province also has their own guidelines, which must be applied in addition to those of the federal government. For example, in Yukon Province, refer to "Guidelines for the Management of Biomedical Waste in Yukon" - Part 5 (Biomedical waste treatment and disposal by classification).
Handling, packaging, and disposal details as well as management of sharps and sharps containers are defined in such documents, as are compliant transportation and disposal methods for that province or territory.
As an example, sharps wastes "must be discarded immediately into puncture resistant containers that are located in the immediate vicinity… needles cannot be bent, broken, cut, or separated from the syringes. Conventional needles that lack a safety device must not be recapped prior to disposal."
Sharps that have potentially been contaminated with body fluids or blood must be labelled and handled based on a written exposure control plan (to be found in Part 6.1) and containers are to be yellow and marked with biohazard or cytotoxic symbols.
In Alberta province, biomedical waste is deemed an infectious substance and belongs to Class 6.2 dangerous good according to the Transportation of Dangerous Goods Regulations. Therefore, any off-site transportation of biomedical waste for either treatment or disposal must be in compliance with those regulations.
In Ontario province, biomedical waste generators with on-site management processes must segregate biomedical waste from all other waste streams and follow the labelling, storage and containment requirements found in their guidance document C-4: The Management of Biomedical Waste in Ontario. Section 4.1 provides specific information regarding containment, container labelling, and refrigeration storage (at or below 4°C) but excludes sharps waste.
Sharps waste specifications are defined in regard to containment. Single-use or reusable sharps containers labels are to be yellow and with the universal biohazard standard for sharps waste, and marked with a red-coloured label and cytotoxic symbol for cytotoxic sharps waste.
Section 16.2 (Storage and disposal of biomedical waste) is a starting point for federal guidelines, but always remember that state, provincial, territorial, and even municipal laws and standards are often more specific, detailed, and stringent than those of the Canadian government.

---

Compliance is Essential for Safety

It's not always easy to find the rules and regulations of different provinces and territories within Canada, but it is the responsibility of the biomedical waste generator to know those rules. Refer to the federal government website, or contact local, municipal, or provincial regulatory agencies for guidance when necessary.
Daniels Health Canada is dedicated to protecting the health and safety of healthcare providers, patients, the general public, and the environment. We provide products, resources, and guidance for all provinces and territories within Canada's borders to ensure compliance and the reduction of improper waste disposal at area landfills. For additional information regarding our biomedical waste management processes and disposal services within Canadian borders and provinces, contact us today.