What Goes in a Pharmaceutical Waste Container?

Pharmaceutical waste is generally defined as an expired or unused/leftover medication, which can be classified as hazardous or non-hazardous depending on the specific chemical properties of the waste. As a result, disposal processes are determined by the potential of any drug to pose a risk to the environments when disposed of, as well as dangers to human health. 
The pharmaceutical waste stream does not only apply to prescription medicines. Over-the-counter medications are also included, as are any waste products that happen to be left over from their manufacturing or use. As such, pharmaceutical waste can also include sharps used to deliver medications, personal protective equipment (PPE) worn by a healthcare provider, or anything that has comes into contact with the pharmaceutical.  
Before you can even think of pharmaceutical waste disposal, it's important to know where to find the laws. 
---
TOPICS WE WILL COVER:
2 / What Goes into a Pharamceutical Container? 
3 / Hazardous Pharamaceutical Waste
4 / Storage, Tranportation, and Destruction
5 / The Bottom Line on Pharmaceutical Waste 
---

Know the laws 

A listing of hazardous substances recognised by Canada can be found at the Canada Occupational Health and Safety Regulations (see Part X – Hazardous Substances). The site also offers information regarding regulations and exemptions, in addition to aspects of storage, handling, and disposal of hazardous substances. 
General information regarding home use and disposal of pharmaceuticals in such scenarios can be found here.   
The Canadian Biosafety Handbook (Chapters 16-20) is also a valuable resource for guidance when it comes to waste management practices throughout the country. However, also note that every province, territory, and sometimes even municipal governmental agencies have their own guidelines. Of course, those guidelines must follow those of the federal government, but they are also often stricter. 
---


What goes into a pharmaceutical waste container? 

What exactly goes into a pharmaceutical waste container? Pharmaceutical waste containers are suitable for used, almost empty, unused, or expired medications and pharmaceuticals. Such examples can be found in pharmacies, hospital wards, medical facility treatment rooms, veterinary facilities, care homes, and so forth. However, regardless of location, pharmaceutical waste containers must be designed to contain drug-contaminated sharps and medications. 
Knowledge of municipal and provincial guidelines in regard to pharmaceutical waste containers is also important in the waste segregation process. For example, in Alberta, contaminated sharps waste is defined as a biomedical waste. However, waste that originates in households is excluded from such guidelines. Biomedical waste containers in Alberta must meet regulatory requirements and specifications, and have required labelling on those containers. 
Pay attention to the details. Federal rules plus provincial or territorial rules must both be followed. 
Throughout Canada, pharmaceutical waste containers are typically white with blue lids, although in the province of Alberta, such waste can also be contained within a red biomedical waste container. 
---


What about hazardous pharmaceutical waste?  

As mentioned, there are many pharmaceuticals that are considered hazardous and require disposal through the hazardous waste stream. Three classifications of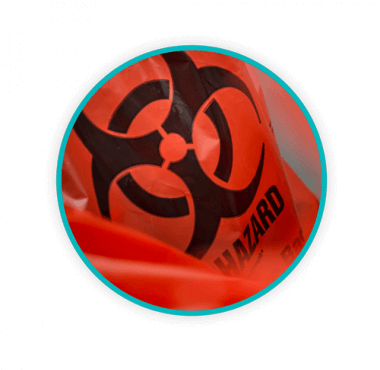 hazardous medications are identified, and include: 
Antineoplastic drugs – toxic, cancer-fighting drugs that are most commonly used in cancer treatments but also have uses in the treatment of other conditions such as rheumatoid arthritis and psoriasis. 
Non-antineoplastic medications – though not specially cancer-fighting drugs, they are still hazardous medications because they can negatively affect or produce changes in the body. 
Non-antineoplastic yet still hazardous medications dangerous to reproduction, especially among couples desiring to conceive, or to women who are currently pregnant or breast-feeding. 
 
The Controlled Drug and Substances Act offers information about regulated substances targeted for enforcement. A database of drugs authorised for sale and used by Health Canada entities is also a frequently updated source of information.  
There is no excuse for not knowing what pharmaceuticals are hazardous and need to be segregated into the hazardous waste stream. 
---


Storage, transportation, and destruction of pharmaceutical waste 

Health Canada provides specific details in regard to security measures for storage and transportation of pharmaceutical waste. This is where it is critical to work with a knowledgeable and licensed waste disposal partner. For example, Section 2.3 (Security – Storage and Transportation) requires that persons in charge of such processes are "responsible for ensuring that adequate measures are in effect for the secure storage of unused, unserviceable or expired controlled substances. Products that are awaiting destruction must be stored in the approved security environment, such as a safe, vault, etc. as indicated on the Licensed Dealer's Controlled Drugs and Substances License…" and that appropriate measures and systems are in place to ensure security in the need for off-site transportation until destruction is completed and products are not retrievable or recoverable.  
Health Canada also states that destruction of controlled substances must be authorized by the Controlled Substance Program (CSP). Applications are to be submitted to regional CSP offices upon scheduling. Application information must contain the date, time, and method of destruction; a list of products to be destroyed; and the names of witnesses. This information must be unaltered and accurate from the point in time the authorization was granted until the actual destruction of the controlled substances. 
Even if authorization from the local CSP has been granted, it is the responsibility of licensed dealers to ensure that destructive practices adhere to environmental legislation guidelines and do not present health hazards. 
---

The bottom line on pharmaceutical waste 

Pharmacies, medical practices, care centres, cancer treatment centres, and so forth should all know and be familiar with the types of pharmaceuticals used in the facility or environment as well as compliant disposal processes for both hazardous and non-hazardous pharmaceuticals – including storage, labelling, documentation, transportation, and destruction protocols. 
Knowing the guidelines for not only what goes into a pharmaceutical waste container, but how they are to be handled, labelled, and destroyed are vital for any facility that provides healthcare services or prescriptions and/or medications. Daniels Health Canada focuses on regulatory compliance and long-term, cost-effective solutions for pharmaceutical waste collection and disposal.