A Day in the Life: Physician's Office Waste

The average day at a physician's office is busy and productive. Throughout the countless activities going on, medical waste is being generated. Disposing of many different types of medical waste, from sharps to biomedical to pharmaceutical, can be a tricky process. Let's take a look at the kinds of medical waste produced on an ordinary day at a physician's office and how to handle it efficiently and safely.
---
TOPICS WE WILL COVER:
4 / Keep Current with Waste Regulations
---


Sharps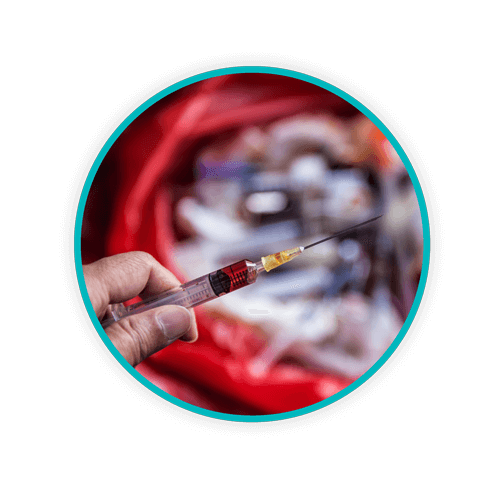 On a regular day of administering healthcare, it's very likely patients will require some vaccines or other shots. From vaccinations to insulin to medications, injections are a frequent sight in the clinic, and each one requires at least one syringe. Blood testing is another daily occurrence that will produce plenty of contaminated needles. With all of these goings on, a physician's office may produce dozens to even hundreds of waste sharps in a day!
Fast, easy, and, most of all, safe disposal of sharps is a must. Sharps injuries steal time and create unnecessary risk for the staff. One cost-efficient option for smaller facilities is a single-use system like Ecoship from Daniels Health. These containers come in a variety of sizes suited for lower volumes of waste. The bins have clear labelling and a tamper-proof design for safety. The care provider can make an injection or draw the sample, provide aftercare, and instantly drop the needle into the bin without worry or hassle. 
Once the Ecoship bins are full, they can be sealed and picked up through a contactless courier service provided by Daniels. Not only is this a carbon-friendly option, but it also gives clinics in rural areas a practical solution that is both budget-friendly and effective.  
---

Pharmaceuticals

Although a physician's office may not deal with this kind of waste as frequently as a pharmacy, suitable drug disposal still needs to be sufficiently mapped out. Many patients trust their physician to safely dispose of medications when no longer needed. Anything kept in stock at the office must be fresh, and expired medications must be disposed of immediately. However, no healthcare provider wants to take excessive time out of their routine to manage drug disposal when it isn't one of their primary duties. Thus, physicians' offices need a simple and fast system for drug disposal whenever possible.
Pharmasmart is a system of safe, eco-friendly reusable containers that can maintain compliance, offer cost reductions and prevent tampering and leaks. Use of a secure disposal method such as this ensures staff and patient safety by preventing misuse and abuse, while keeping potentially harmful chemicals out of the environment. 
Expired, unused, or partially used medications that do not need to be denatured, as well as pharmaceutical vials, broken ampoules or vials, inhalers, and anything else that falls into the category of pharmaceutical waste, can be dropped into the bin. When the bin is full, Daniels Health takes care of disposal, cleaning, and returning the container back to you.  
For physician offices that do not generate sufficient waste to justify investing in a larger system, there is another option. In such cases, a single-use pharmaceutical waste pail may be the practical choice to balance effectiveness and ease of use with price. These pails also promise secure storage of waste that meets and exceeds penetration standards. 
---

General Waste

Of course, every physician's office also generates a great deal of general waste every day. Paperwork, food wrappers, patient garbage – the clinic must be ready with receptacles to tackle this kind of waste, too. This is not a form of medical waste that presents any risk. Therefore it can all be easily disposed of in the general waste stream. However, it's important to educate staff of what is considered general waste and what is not. Adding general waste to medical waste containers can cause the office to incur unnecessary disposal costs. Likewise, staff misusing the general waste receptacles could open an office up to severe repercussions.
That's why it's crucial to have a good waste disposal system with clearly marked containers in use. If regular trash becomes mixed with sharps waste, it becomes contaminated. Then, it must also be disposed of as carefully as a biohazard itself. This increases risk and causes extra expense to accommodate more biomedical waste disposal than is really needed. While it isn't necessarily a form of medical waste, it's important to take the extra step to ensure the general waste remains in the right bins and that every bin is used for its intended purpose. This way, general waste doesn't become excess medical waste. 
---

Keep Current with Waste Regulations

Physician offices work hard to prioritise care and keep patients and staff safe. But that's not the only job of a healthcare practice. It's also essential to be compliant with all of the numerous national, provincial or territorial regulations that are on the books that relate to medical waste, its storage and disposal. Partnering with a medical waste disposal agency can give you the guidance and support needed to navigate these complex requirements. Daniels Health has tailored its business to not only be a provider of devices and disposal, but also as a guide who can tailor an appropriate plan that covers your specific office waste needs, without any excess expenditures. This approach has helped numerous hospitals, clinics and offices get just the services they need. From intelligently-designed bins that support a practice's staff to full documentation that provides peace of mind and security, Daniels Health provides a comprehensive approach to waste management.  
---


Conclusion

Physicians' offices provide lifesaving treatment and prevention that benefit the lives of their patients. But these beneficial activities come with the side effect of producing a considerable amount of waste. Most of this waste is neither hazardous nor regulated, but invariably some regulated medical waste will be generated.
However, with the right planning, disposing of this waste does not need to distract physicians and staff from the work that matters most: helping their patients. By partnering with a full-service provider such as Daniels Health, physicians' offices can guarantee that medical waste is disposed of in a safe, sustainable, efficient, and compliant manner without the difficulty of navigating these hassles on their own.