Day-To-Day Challenges Facing EVS Professionals In Acute Care Facilities

Environmental service (EVS) professionals are among the most critical workers in any healthcare setting. These essential workers help to prevent the transmission of infections while ensuring a high quality of care for patients.
Whether it is disinfecting advanced medical equipment or keeping patient rooms safe and comfortable, EVS workers play an integral role in keeping acute care facilities running smoothly. However, they also face a number of challenges in their pursuit of high-quality patient care.
Labour shortages coupled with higher rates of patient flow and sparse resources have left EVS professionals with an enormous task in front of them. Here we'll cover some of the daily challenges facing EVS professionals in acute facilities as well as the industry trends that are helping to improve their working conditions. 
---
TOPICS WE WILL COVER:
1 / How Many of These Challenges Do You Face as an EVS Professional? 
2 / Industry Trends Help Find Solutions to the Challenges Canadian EVS Departments Face
3 /  Daniels Health is a Partner in Improving Environmental Services  
---


How Many of These Challenges Do You Face as an EVS Professional?
1. Insufficient Resources To Meet Demand

If you're a part of an EVS department, you have most likely experienced one of the most common struggles with these departments: a lack of resources. Short staffing has been endemic, particularly in the wake of the pandemic. This has left remaining EVS professionals overworked and burned out, leading to delays in preparing rooms within tight time constraints.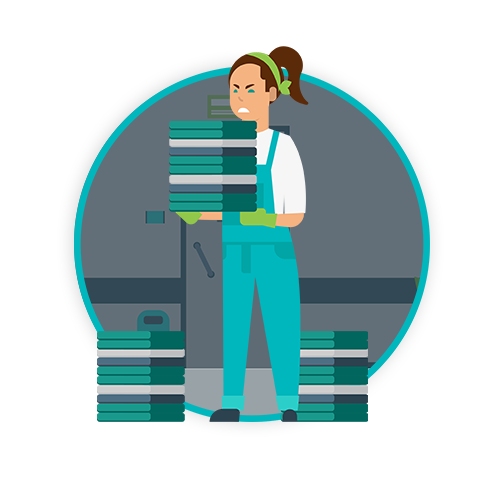 Providing comprehensive disinfection and cleaning, particularly for advanced medical equipment, can be a nuanced process requiring education and guidance. Staffing challenges have led to struggles in giving new staff this much-needed training.  Overall, staffing numbers and professional development have not scaled with demand in most acute care facilities.
 
2. Poor Facility Planning
 
In most acute care facilities, the professionals designing the layouts did not consider the work that EVS professionals would be doing. This has often led to the tasks of EVS professionals conflicting with the activities of medical providers and others in the acute care environment. 
Poorly placed medical and general waste containers can make it challenging for EVS to perform their work as well as create an unattractive nuisance for patients. This not only makes it challenging for the work of EVS teams but can harm the quality of care that patients receive.
 
3. Cumbersome Bureaucracy
 
Maintaining compliance with all relevant standards isn't an option, it's a requirement for most facilities. Yet, poor implementation of programs designed to ensure compliance inadvertently encumber staff. Ill-planned workflows, unnecessary steps, and excessive paperwork commonly burden EVS professionals who already have enough on their plates. Sometimes, EVS management is out of touch with the needs of staff on the ground, leading to work programs that slow down everyone's process. Frequently, understaffed facilities overburden employees with duties that could be more efficiently managed by outsourcing them to external providers. 
 
4. Poor, Insufficient, or Outdated Training
 
EVS professionals need to stay up-to-date with the latest information concerning compliance, safety, and other performance-relevant topics. Since there is always something new happening in the medical industry, constant training and self-guided learning are crucial for keeping up with important developments in the field. However, many professionals lack the time and resources to invest in frequent retraining. Many facilities also fail to ensure their EVS staff is being educated suitably in areas that could improve the overall performance of the facility.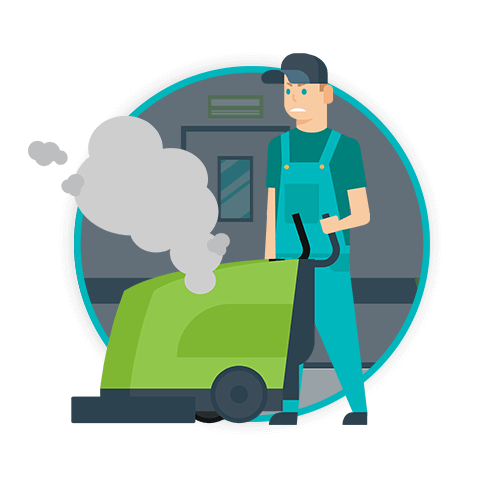 Despite these challenges, many providers rise above and excel in combating these problems. Trends in the industry reveal that facilities are beginning to address their training issues for the benefit of EVS professionals and their work.  
---


Industry Trends Help Find Solutions to the Challenges Canadian EVS Departments Face

While there are plenty of challenges for EVS departments, there's reason to be optimistic. Here are some of the industry trends that are offering solutions to overworked and understaffed EVS departments. 

Improving Workflow Efficiency
One of the key ways to minimise bureaucracy is by re-evaluating current work procedures with an eye for minimalism. Once management identifies areas of inefficiency in the workflow, they can consult with staff who actually perform the function to source ideas for improving efficiency. It is possible to meet safety and compliance standards without drowning in red tape. 
Understaffing is a common source of these workflow issues, and management can address this issue by outsourcing some functions to other providers. Leaning on a waste management partner like Daniels provides an opportunity to overhaul your facility's waste strategy for faster, more effortless disposal without further encumbering anyone within the organisation. Daniels has helped many healthcare facilities in Canada improve efficiency when it comes to environmental services and waste disposal. 
 
Making Training a Priority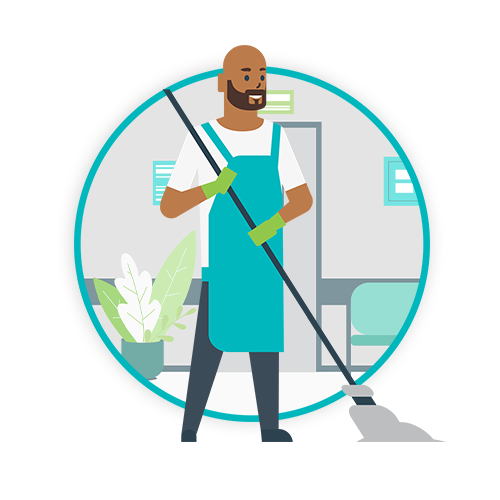 Establishing that frequent training and retraining is a priority for facilities is one way healthcare administrators can keep ahead of the curve. EVS professionals perform at their best when they are supported by opportunities to regularly refresh their skills and knowledge. Often, training may be an internal process, but external resources are frequently available to make this easier and more streamlined. For example, Daniels Health offers a variety of training modules on medical waste disposal as a part of its services.  
 
Improved Planning for Acute Facilities
 
Existing infrastructure in acute facilities is often designed without the work of EVS professionals in mind. However, this has changed in recent years. Many industry leaders have recognized the crucial role that EVS plays in ensuring a safe and high-quality environment for care in medical facilities.
In response, Daniels has stepped up to provide solutions for managing medical, sharps, and biohazardous waste designed by industry experts. One example is Daniels' intelligently-designed reusable waste disposal containers, which are available in a variety of sizes and modular or mobile configurations that facilities can adapt to fit their needs. Sharpsmart, Pharmasmart, Medismart, and other Daniels reusable containers are uniquely designed to meet the demands of clinical work with rigorous safety, convenient ease of use, and modern compliance features. Facilities can mount different containers on walls or on moving bases to allow for disposal at the point of generation, saving EVS professionals time, while the container's reusability allows long-term cost-efficient usage. 
Workers will appreciate having a consistent, clear, and efficient network of containers throughout the facility. This helps to ensure that EVS professionals can accomplish their work without it conflicting with medical providers or patients.
 
Optimising Work Distribution
 
EVS teams in acute care facilities have struggled to meet demands, but with labour shortages across healthcare facilities, it does not look like this is likely to change anytime soon. However, improved planning and outsourcing of certain functions are allowing EVS departments to better focus on the tasks that need them most.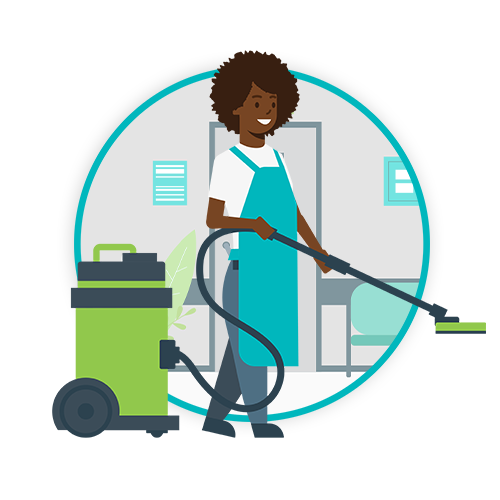 A core component of this improved planning has been coordinating EVS staffing with the highs and lows of workload demands. For example, when more patients are coming in, and demand is at its highest, more EVS personnel are on duty and ready to prepare rooms.
Another solution has proven to be modernising certain functions, such as waste disposal. Traditionally, acute care facilities have used disposable waste containers that require extra steps in order to transport, such as bagging and boxing. But this is changing. Now, many EVS departments have begun to employ reusable bagless containers offered by Daniels Health, eliminating the need for extra steps when containers are full and during transport.
Some departments have also learned to delineate roles in order to ensure work is performed in the most efficient ways possible. Whether it is allowing workers to specialise in certain roles or even outsource certain functions to external providers, EVS departments are learning to do more with less. 
---


Daniels Health is a Partner in Improving Environmental Services 

EVS professionals face many challenges and uncertainties in their day-to-day work. However, the future appears bright as the healthcare industry has begun to recognize their contributions and adapt to the needs of EVS teams in acute care facilities and beyond. Industry leaders such as Daniels Health work closely with EVS professionals to address the challenges they face, thus helping to meet their needs so they can continue to provide patients in acute facilities with the high quality of care they expect and deserve. Learn how Daniels can help with the unique needs of your facility by reaching out for expert advice and consultation.