Best Practices for Surgical Waste Disposal

Operating rooms are some of the most transformative places in a hospital. They are the setting for lifesaving surgery, for repair and restoration. They are the location of some of the most advanced  procedures a hospital may offer. ORs work best when there is maximum organisation and well-defined roles. Like a well-timed orchestra, each healthcare professional in the OR plays a precise role. Together, they deliver life changing procedures. 
---
TOPICS WE WILL COVER:
1 /  Surgical waste requires a different approach for OR Safety 
2 / What are the specific waste disposal needs of the operating room 
3 / How to make the operating room safer with proper disposal techniques 
4 / Best practices for surgical waste 
5 / Surgical waste solutions designed for operating rooms 
---


Surgical waste requires a different approach for OR Safety 

ORs are unique environments, unlike other healthcare settings. Because of this, these spaces demand their own customised approach to medical waste. An OR is usually a crowded space filled with many healthcare professionals – nurses, surgeons, anesthesiologists. With so many professionals in one small space, hand passing instruments, the risk of injury and sharp sticks rises. It differs greatly from the typical one-on-one environment of medical exams or nurse visits. Which is why it's so important to reimagine surgical waste and let go of the one-size-fits-all approach to medical waste.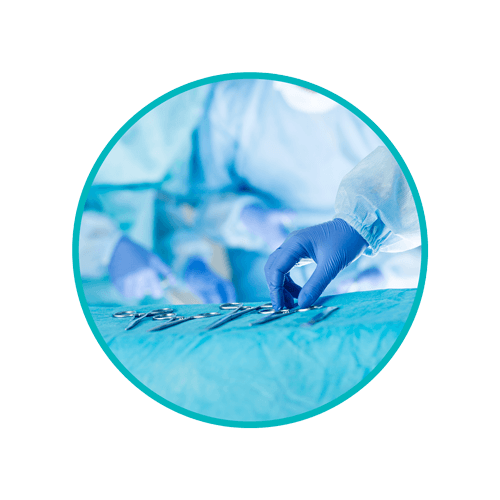 ORs often have multiple people moving around a small environment. This means a surgical waste solution demands a reduced footprint which has the ability to be moved as needed. Since there are typically multiple types of medical waste created in a surgery setting, a surgical waste solution needs an optimised approach to segregation. Time is of the essence in any surgery setting. Surgeons and support staff must work to minimise steps to ensure surgery stays on a precise schedule. That means time can't be wasted locating medical waste containers or leaving a station to use a disposal unit. 
Finally, the OR environment needs to support the highest levels of safety for both the patient and the professionals in the surgery environment. Needlestick and sharp injuries have been shown to be six times more common in surgical settings compared to medical environments. Portable surgical waste units can help to limit movement necessary to dispose of sharps. 
What are the best practices for surgical waste disposal? And how can you streamline the surgical waste collection process to make it as safe and efficient as possible for your staff?  
---


What are the specific waste disposal needs of the operating room?

ORs create a variety of potentially dangerous types of medical waste, which often need to be segregated into specific medical waste containers. This waste can be divided into the following categories:
 
Hazardous 

Hazardous waste is made up of items that are usually sharp and can inadvertently prick and infect someone if it is not disposed of properly. These items include syringes, needles, scalpels, and other tools that a medical professional may use during surgery or examination. 
 
Infectious 

Infectious waste is waste that is contaminated by blood, cultures, bodily fluids, and any other potentially contagious fluids that may come from people or animals. Bandages and swabs are the most common form of waste classified as infectious. 
 
Radioactive 

Radioactive waste comes from nuclear medical treatments, such as for lymphomas, thyroid cancers, and other disorders. This waste develops when medical professionals use radioactive material to examine or treat bodily organs. Medical professionals must carefully dispose of this type of waste because it can contain radioactive particles that are harmful to people and the environment. 
 
General

General waste collected in a medical facility is similar to waste accumulated in a home or office. It can be simple items like paper or containers that surgical tools come in. Simple trash like this can go out in the local trash. However, medical professionals must avoid throwing out the other three types of contaminated waste in general trash as this could lead to contamination. 
---


How to make the operating room safer with proper disposal techniques?

The ideal way for medical professionals to keep the operating room safe and sanitary is to properly dispose of tools, linens, and other items in proper bins. These items should be placed in their proper medical waste containers as soon as possible after use, to avoid contamination. Bins for various types of medical waste should be clearly labelled and colour-coded. Additionally, frequent review with surgery professionals should be done to refresh staff on which types of waste go in each container. Once these containers reach full capacity, it's imperative that a new container be easily available. 
Many adverse effects of surgery can be traced back to human error. One key way to support surgical teams and help prevent errors is by ensuring the safest, most efficient surgical waste solution is available to them. 
---


Best practices for surgical waste

How can medical facilities ensure that they keep surgical areas clean, safe, and sanitary? Below are a few best practices for minimising contamination, reducing environmental hazards, and curtailing the spread of infectious diseases. 
 
Maintain Proper Compliance

Medical professionals should be aware of compliance as it relates to surgical waste. While there will be some items they will have to dispose of with general waste, other waste will need incineration, sterilisation, thermal treatments, and more. They should also be aware of other compliance issues related to deadlines for moving items from the facility. Storage limitations largely depend on the volume of waste and its temperature. 
 
Ensure Waste is Properly Categorised

Making sure waste is in proper categories is essential. Doing this will minimise contamination, injury, and the spread of disease. It will also help keep down costs by ensuring that items placed in hazardous waste containers are actually infectious or hazardous waste, not general trash. 
 
Use Proper Medical Waste Containers

Using medical waste containers that are designed for the unique needs of the OR is a practical way to make waste disposal more intuitive and effortless. The Daniels Surgismart system, for instance, provides mobile sharps disposal safety in the OR. This is the leading clinically-designed solution for the disposal of both devices and sharps in the OR. What makes it so innovative and helpful in creating a safer OR environment? 
Mobile transportation
Hands-free foot pedal operation
Point-of-procedure for sharps deposition
Eliminates cross-contamination risks
Full access opening for ease of disposing large or bulky surgical items 
---

Surgical Waste Solutions Designed for Operating Rooms

Daniels is committed to developing the most user-friendly, intuitive and sustainable solutions to medical waste in Canada and beyond. Our goals are to help prevent sharps injuries while supporting the operations of healthcare professionals. We believe medical waste disposal should be designed for the way healthcare operates, not the other way around. From the Surgismart to our full line of Sharpsmart products, we are here for healthcare organisations from start to disposal. We've designed our medical waste containers to be sustainable. There's no bags to potentially rip, tear or burst. Our waste containers are fully contained and removed from your facility by our highly trained team. Using reusable containers that are robotically sanitised, our containers undergo a six-stage decontamination process that goes four times higher than prescribed levels of cleaning. Ready to make your surgical environments safer and more efficient? Contact Daniels to speak with a representative about proper containers to maintain a safe, healthy surgical environment.